What is NAKO?
Simply put, NAKO is a software solution that masters Time & Attendance by integrating biometric fingerprint scanning hardware with existing payroll systems.
The Time & Attendance Landscape
Time and Attendance systems using fingerprint scanners are nothing new. Cutting edge fingerprint scanning technology to manage access control and employee attendance has been available to the workplace for years. In addition to this, payroll software to manage employee rates of pay and working hours has been available for decades.
The problem is that up until now, the data provided by fingerprint technology has not been fully accessible to payroll systems. Combining the two technologies used to be a troublesome process, usually involving time consuming human involvement with the risk for error. Until now.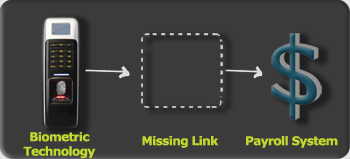 What is NAKO? NAKO Solution NAKO Offering